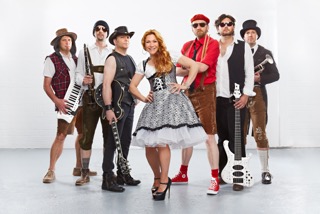 Ingrid Schwarz is putting together an ensemble of professional musicians for the Oktoberfest. The excellent musicians, who have already played with the Pepe Lienhard Band (Udo Jürgens) and the Ronchalli Orchestra, guarantee musical highlights from different genres. From Bavarian traditional marquee music to party and chart music to top-class jazz music, the band masters their musical repertoire.
Ingrid Schwarz is the voice of the Heidelberg Oktoberfest Orchestra.
Growing up with her father's Roncalli Orchestra, her heart beats for the music to this day. Since her vocal studies in Mannheim and Heidelberg, she has countless stage performances with renowned national and international artists.
She achieved national recognition through performances with internationally renowned artists such as Herbert Grönemeyer. She was on tour with Marianne and Michael.
The singer and pianist promises in addition to her vocal performance also to give professional yodels. With her extensive musical skills, she will easily capture all public moods, because there is hardly a song that she has not already sung.