After more than 15 years in the Hard Rock business the DIRTY DEEDS are no longer a secret of the scene! Founded as a fun project, the band has since performed countless legendary performances, including at the world's largest heavy metal open air festival in Wacken! In the equally magnificent Wacken Seaside, they even stood on stage as headliners.
You just have to have seen & heard it! The spectacular stage show of the singer & front man Marcus "BC" Pföhler, as well as the authentic and powerful presentation of the guitar and rhythm section provided for a steadily growing fan base at the concerts.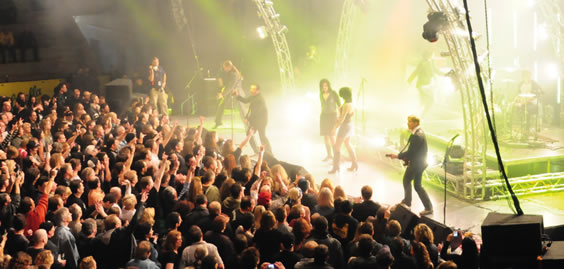 DIRTY DEEDS
have set themselves the goal of playing exclusively AC / DC pieces from the "good old days". The repertoire covers all tracks of the first five LP's & the Australian releases.
DIRTY DEEDS
interpret the songs in a skilful blend of authenticity, spontaneity and humor, without running the risk of falling into stupid re-enactment.
So, friends of the well-kept riff: Come to the HEIDELBERGER ROCKTOBERFEST and do it like Bon Scott & AC / DC did:
WE MEET A LOT OF PEOPLE, WE DRINK LOTS OF STUFF AND HAVE LOTS OF FUN!
More information about the DIRTY DEEDS on
www.dirty-deeds.net
We are thrilled that we could win another fantastic cover band for our ROCKTOBERFEST. Rejoice with us
BILLY EITEL
- A Tribute To Billy Idol 

BILLY EITEL
is the BILLY IDOL Tribute Band, dedicated to the musical life of your rebel and unbelievably authentic, bringing the songs and greatest hits of Billy Idol to the stage without being just a copy of the original. Closely inspired by the original, BILLY EITEL celebrates classics such as White Wedding, Flesh for Fantasy, Rebel Yell and many other pieces from the hit albums of rock punk with the blond spiky hairstyle.
Get ready for energetic rock and a whole dose of musical heaviness!
More information about Billy Eitel on
www.billyeitel.com